Jun 14, 2020 07:54 PM Central
Bug Off Spray ~ Without the Harmful Chemicals
---
Summer is upon us...& so are the BUGS… #amiright?!
No one likes those creepy crawlers, so I'm here to share my favorite ways to be rid of them!
The easiest way, of course, is to snag a bottle of pre-made insect repellant.
Not all insect repellant is created equal… especially if you're going for a hippie-friendly, DEET-free option. Young Living has NAILED the recipe, and I LOVE it!
They have it in a bottle, check it out HERE.

Or in wipes, check those out HERE.

The formula is a bit oily (remember skin so soft??… kinda like that). An easy way to make it super portable, is to fill a 10ml glass roller bottle and toss it in your purse, pocket, beach bag, or backpack. That way, you're always prepared.
Feeling like a mixologist? Make your own!
I started using Young Living's essential oils in September 2013 while we were living in Homer, Alaska. Now, if you've been a bit inland in Alaska, you know the mosquitos get HUGE. The hubby and I did a "Pepsi challenge" of bug sprays, my homemade vs. his poison, and let me proudly say… I WON!!!
You can use a combination of oils, steal random recipes off of an internet search, and still be better off than using harmful chemicals on your bare skin.
Here's my first tried & true recipe that I still love today: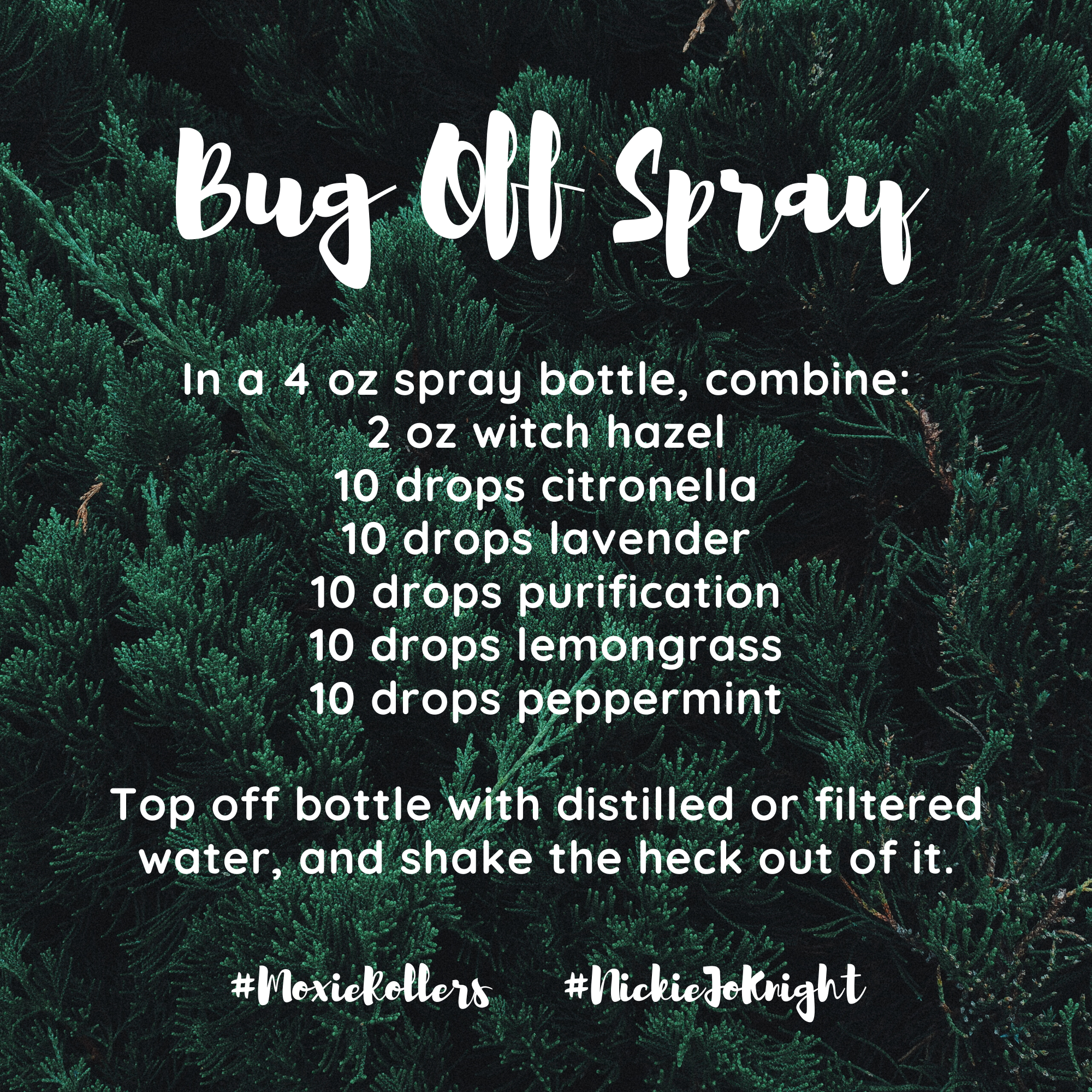 And the best option yet - Use your homemade concoction + YL's premed insect repellant - You won't be sorry about that winning combo!




Check out our Just a Tip Tuesday, on how I use this goodness to keep ALL the bugs away!


If you'd like more information on how to get the ingredients in this recipe at 24% off of retail pricing, visit me here: http://moxierollers.com or e-mail me @ nickie@moxierollers.com
Cheers!
xoxo,
Nickie Jo Knight